Work has continued on adding new datasets to the Catalogue. There are now datasets from over 40 publishers, some of whom have contributed multiple collections. The Catalogue currently contains over 3.8m resources, the most recent datasets to be added being:
Isle of Man marine data on Shipwrecks – 1,916 resources published by Manx Heritage detailing shipwrecks, events and reports relating to artefacts from the 15th Century onwards. The image above is the Catalogue 'Where' image showing the combined locations of the resources on the geographical heat map.
Artefacts from the Museum of Cultural History, the University of Oslo. Nearly, 300,000 resources have been added dating from -10,000 BCE to the present day.
National sites & monuments records for Republic of Ireland (supplied by the National Monuments Service via CARARE). This extensive collection consists of 161,383 resources which include forts and dwellings, graves and burial sites, churches, menhirs and agricultural settlements, industrial sites such as mills and kilns, and many more dating from prehistoric times onwards. Note that this dataset does not include dates but the period names are often indicated in the Title and/or Subject fields.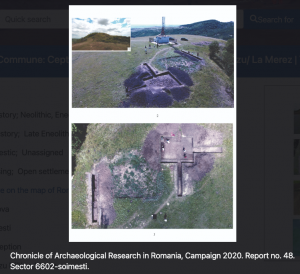 Fieldwork reports from the Romanian National Heritage Board (INP). Over 5,000 resources covering archaeological sites from all over Romania. Some of the descriptions are in English, the rest in Romanian. However, if used, Google Translate works very well with the information  displayed on the Landing page URL for each resource.
Image from Field Report on Șoimești. Ceptura. Prahova (punct: Dealul Merezu/ La Merez) / anul: 2020.
More datasets are due this year, this work will be undertaken by the newly formed ARIADNE RI which will continue to maintain the Catalogue, among other objectives.