Photo: Allan Faurskov
Information about discoveries made by the general public (usually with metal detectors) from the Danish DIME database are now available in the ARIADNE Portal. Currently, the DIME collection consists of over 8,000 portable antiquities, ranging from the stone age to modern times. However, new finds records are constantly added to DIME by citizens, in cooperation with Danish museum professionals. The DIME portal is a citizen science tool, that enables members of the public to participate in the creative process of identification, study, protection, and presentation of archaeological heritage. Some rather nice examples are (Google translate works well for Danish text):
Byzantine earring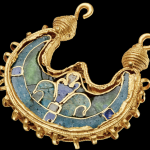 – this find has been in the news both in Denmark and internationally – this article from medieval.eu provides more background information about this unique public find.
Fibulae (brooches and clasps) are typical Viking artefacts, these come in many designs, trefoil shapes and patterns being a common type. Here is another fibula find – there is no barrier to how young (or old) amateur archaeologists are!
This rather unusual object is part of a medieval candlestick.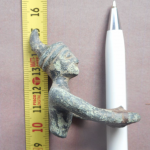 Other public finds include swords and daggers, coins, more recent WW2 artefacts to Neolithic stone axes. The best way to browse the DIME Collection is to enter your search term of interest and then filter the results using the options Publisher "Aarhus University" and the Getty AAT Subjects (which also displays the number of records found in each listed term).
You can read more about Public Finds in the ARIADNE data infrastructure in this full-length feature.